ClientLook Power Tip: Using The Fast Search Bar
One of the first things I notice when working with our commercial real estate software subscribers in ClientLook is that many people don't use the fastest method of finding their records within ClientLook – the fast search bar. It works for contacts, companies, deals, properties, listings and comps.
At the top of any page in ClientLook CRM, you will find the search bar. Simply choose the kind of record you are looking for from the drop-down picklist and then type a few letters of a record you are looking for. ClientLook will instantly retrieve a list of matching items – click the one you want and pull up that record instantly. There is no need to click on the "Contacts" menu, for example, if all you want to do is jump to a contact's record.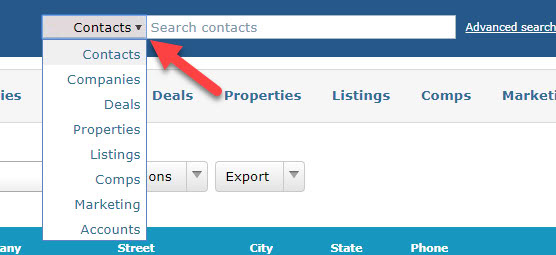 You can enter any search string, it doesn't have to be the beginning of the word. So, to find "John Smithfield" you can enter "john", "john s", "smith" or even "fiel" – all of these options will instantly find John for you.
For larger databases, where you might have many matches, you can enter both the first and last name. One tip for using this most effectively is to start with the last name, then a space, then start typing the first name. This is also a great way to find someone when you aren't sure exactly how you entered the name. For example, Catherine Jones. Did you enter her as Catherine or Cathy? If you search for "Jones Cath", you will find that record regardless of how you entered her name in ClientLook.
This works for nicknames also, if you have entered them in our Nickname field. If you added William Gibson, with a nickname of Bubba, you can type "Gibson Bub" or "Bubba Gibson" to find him.
See our training video section for over 50 short videos which walk you through using all the features of ClientLook. If you ever need personal help, just contact our support staff – we're here to help you succeed!
If you're not a current ClientLook subscriber, schedule a demo today. Already a ClientLook subscriber? Request a free Success Audit to make sure you're getting the most out of our features.